Open House - The Real Estate & Mortgage Show: September 06th, 2022
Date Posted: September 6, 2022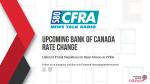 The next Bank of Canada announcement is coming up this September and economists are estimating it will increase by another .25%. Economists believe this may be the last increase for 2022 as we are beginning to see costs slowly coming back to normal.
Within the Ottawa housing market, we are seeing that different areas are reflecting different results. Some areas leaning more towards being a buyers' market, and some remaining a sellers' market. There have been some clients who are asking if it is best to wait to sell their house until Spring of 2023 – however, it is nearly impossible to tell if you would be in a better or worse position that far ahead.
On the other side of the coin, we are seeing a lot of buyers who end up qualifying for a mortgage but after seeing what their mortgage payment would be, they decide to wait a little longer to purchase a home.
If you are in the position of looking to buy or looking to sell, the hard truth is that it is currently a difficult time to predict what will be happening in the future. If there is a representative trying to sell you based on what will happen in the future, it may not be worth it and may be best stay on the safest side possible.
If you want more advice based on your specific situation, contact your mortgage broker.
To listen to the full episode, click here.
Contact your Mortgage Broker today for trusted advice.