Open House - The Real Estate & Mortgage Show: August 6th, 2022
Date Posted: August 8, 2022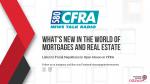 With a slow down in the market, the number of sales dropped down in July to 1110. However, average sale prices increased again by 3.8% to $645,000. Year-to-date, the number of sales is down but average sale prices increased by 9.9% to $719,000 to end July. Despite the last 4 months prices decreasing, we are still up $74,000 over the last 7 months. We are teetering towards a more normal, balanced market and this gives buyers more time to review their financing and inspection options.
The bond market has started to retract, and the non-bank lenders have decreased some of the five-year fixed rates to the mid-4% range. When it comes to looking at all your options, bank and non-bank alike, it's best to review with your Mortgage Agent. With the interest rates at their current levels, given the qualifying criteria and cash flow, investors and first-time home buyers are sitting on the side lines.
Frank discusses bridge financing with a caller, explaining that bridge financing is when the existing home has a firm sale of offer and there is a time delay between closing on the new home and closing on the existing home. This can be challenging when there are no mortgages on either property.
Paul discusses transferring property from a parent to a child for a future rental property. Best practice would be to discuss with your lawyer and accountant.
To listen to the full episode, click here.
Contact your Mortgage Broker today for trusted advice.