Open House - The Real Estate & Mortgage Show: August 20th, 2022
Date Posted: August 22, 2022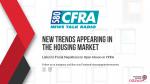 It's August 2022 and interest rates are still slowly rising which means people with variable rates will be looking at increased payments. That is, of course, unless you are with TD or Manulife who provide a True Variable Mortgage which means when rates increase your payment doesn't increase but your ratio of interest and principal changes. Instead of having the total payment increase, your payment stays the same, however, the amount of interest taken from that payment increases instead.
This is a good option for people with investment properties as you've likely already budgeted for the payment on the mortgage, and when using a True Variable Mortgage – that number won't change.
A new interesting trend we've seen in Ottawa is young homebuyers beginning to team up to buy a house together. Two couples have teamed up to purchase a house together now in the hopes that 5 years down the road they will have enough equity built to be able to buy their own houses separately. This is a trend that is common in Europe and in some places in United States but is now making its way into Canada. If you're thinking of taking on this strategy, make sure there is an agreement in place to determine what happens with specific scenarios such as divorce or loss of life.
Nostalgia Festival is coming up this week from Wednesday August 24th to Sunday August 28th which is a festival at Lebreton Flats and features the best cover bands across the nation. Official cover bands for bands like Aerosmith, Rolling Stones, AC/DC, Metallica and more will be performing every night. You can get your tickets online on the Nostalgia Fest website.